Introduction
The people think that the needs of manufacturing industry constituting a base of the Japanese economy changes by the domestic and foreign situation of these days to be a feeling. The solution for these needs seems to come, besides, to the place that is not the thing that can be settled in one vendor, one engineering firm, one user. Will not it be time when so-called compound solution is necessary?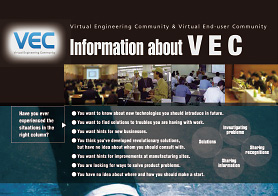 Information about VEC (1.9MB)
PDF / 4 pagesI take up various problems demanded from these environment changes and the change of the shop floor, manufacturing industry and think about a solution with member, and it is it with a place having necessary technology and may not contribute to manufacturing industry in what you can help concretely?

If recognition joint ownership is possible to recognition joint ownership from information acquisition to information sharing more, it is a thing to be accompanied by the courage on being active in a company. When it is tried by all means, how will about participation to the VEC activity?
The VEC charter
It fuses with user needs, the element technology of the seeds maker of the industry leader, an engineering firm or an applied technology of SI (system integrator) I gain the favor in the market situation and innovative technology to change busily quickly, and to receive the times in advance, and VEC (Virtual Engineering Community) is a partnership group to realize the most suitable solution construction for each needs by communalizing their latest composition information. I make use of these, and let's contribute to Japanese manufacturing industry.